Former 100T player, who recently retired from CS:GO, has expressed that he is keeping his options open for other games, hinting at the possibility of a return to Valorant.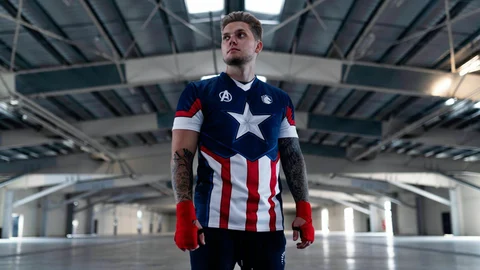 Captain America's notable CS:GO journey has ended, and there is already speculation about his possible return to Valorant. Nicholas made the announcement after his team was eliminated in the lower bracket Group B at IEM Dallas 2023, finishing in 9th-12th place.
Reasons For Retirement?

nitr0 stated in his official announcement:
I'm retiring from Counter-Strike, but I'm leaving my options open for other games and stuff," nitr0 announced. "If I get an offer, I'll consider it obviously, but as of now I'm just going to start my stream up and just try to just see where that takes me.
Getting hit in the feels right now, I've loved every moment of CS and it'll always be a huge part of my life. Love you guys, and all my ex teammates.

— Nick Cannella (@nitr0) May 31, 2023
The speculation about nitr0's return to Valorant was fueled by his announcement, in which he mentioned that he is open to exploring other games and opportunities and will consider any offers seriously.
If I get an offer, I'll consider it obviously, but as of now I'm just going to start my stream up and just try to just see where that takes me because there's nothing else to really do right now. I'm not going to actively look for another Counter-Strike team because I'm just not interested right now.
With nitr0's CS:GO career nearing its end, we can expect to see a wealth of streaming content from him. Family plays an important role in everyone's life, and now that Nicholas has become a father of two, it is probable that his decision to focus more on streaming is driven by a desire to minimize travel commitments to LAN events and spend more time with his loved ones at home. It's worth noting that professional players at his level, or similar, typically spend nearly 80% of the year away from home due to travel requirements.
nitr0's Valorant Comeback?
It's always thrilling to see legendary figures enter the scene, but currently, it's unclear whether nitr0 has plans to return to Valorant. In his previous venture, he competed for 100 Thieves for nearly a year and a half before rejoining his initial FPS passion. Throughout his discussions about Valorant, Nicholas has consistently conveyed positivity and enthusiasm, indicating that he greatly enjoyed his time as a professional in the game.
The wait is over, and we can finally deep dive into Diablo IV! Have you checked it out by now?
Me realizing he is leaving for valorant (Jk I love u nitro) pic.twitter.com/nE5ZSFGAd4

— agust1n (@agust1n_2) May 31, 2023
Who Would Want nitr0 For Their Team?
At the moment, the teams that meet nitr0's desired criteria are mostly well-established and unlikely to make any roster changes in the foreseeable future. Based on his statement, the main reason behind his initial retirement from CS:GO was to prioritize spending time at home and taking a break from frequent travel. This implies that he would likely concentrate on online tournaments and prefer to compete within his region of North America.
We have confidence that Nicholas will make a well-informed decision that aligns with his own best interests and potential future career. That concludes this article, and we hope you found it informative.
Check out the Gift we've got from Epic Games Store!
This article contains affiliate links which are marked with [shopping symbol]. These links can provide a small commission for us under certain conditions. This never affects the products price for you.