The LCQs alone are stress-inducing, given that they represent the final opportunity to earn a spot in the most prestigious Valorant event.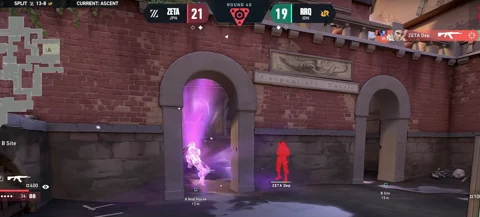 Extended games can take a toll physically and mentally, and the outcome can be quite exhausting. While there have been previous records like "The Longest Match in History of Valorant," it was just a pub record. However, a VCT LCQ game going for 40 rounds can be a breathtaking spectacle.
Not the Longest, But Memorable
Although not claiming the title for the longest Valorant game in VCT history, the Zeta vs. RRQ match left many people wondering if they had witnessed a historic moment, given its intense and gripping nature.
2-1 gg
OT is always fun

— ZETA Dep (@Dep_ow) July 20, 2023
Here are some games longer than this one:
VCT 2021 EMEA League 3 Challengers Playoffs: forZe 24:22 FunPlus Phoenix
VCL 2023 Vietnam Split 2: The Mad Men 22:24 TWOKAY
VCL 2023 Japan Split 2 Open Qualifier: teamduration 25:23 Taikao Motto Huete
The available data only revealed this limited information about the matches reaching the "later stage." Hence, we can conclude that the Zeta vs. RRQ game isn't the absolute longest in VCT history, but it's close.
Zeta Emerges Victorious in a 40-Round Decider Map
40 rounds of INSANE VALORANT in Ascent! #LCQPacific pic.twitter.com/RlW6l4Aaq3

— VCT Pacific @ LCQ (@vctpacific) July 20, 2023
Let's move beyond statistics and records to discuss the game itself. Valorant games are notorious for their unpredictability. During Map 1, Haven, RRQ dominated Zeta, leaving them with little room to breathe.
RRQ claimed Haven with a score of 13-2, and Zeta seemed helpless on that map. However, the second map, Split, showcased a revitalized Zeta with clearer strategies, and Dep began to shine.
Relive the final moments of @zetadivision's EPIC win from the @valesports_jp broadcast! JP#LCQPacific pic.twitter.com/PzVKEK7EGC

— VCT Pacific @ LCQ (@vctpacific) July 20, 2023
Dep Sets New Kill Record on LAN
The perfect timing for Dep to set a new kill record was in this match. Despite a relatively slower pace and some unfortunate situations, Map 3 presented his moment to shine. The Child of God ensured that Zeta didn't drop down to the lower bracket and seized the opportunity to prove his worth.
Dep concluded the game with an impressive 42 kills in the second-longest game in VCT history.
.@Dep_ow just broke the kill record on LAN with 42 kills.

He delivered the winning kills in round 40 too.@zetadivision needed a savior, the child of god answered the call. #LCQPacific pic.twitter.com/rOodgOWN3m

— VCT Pacific @ LCQ (@vctpacific) July 20, 2023
The path to the record was nail-biting and deserved every ovation and hype it received from Twitch chat. During the final round, with the score at 20-19 in favor of his team, he defended the spike against two opponents from the Boat area on Ascent. He secured both frags, clutched the round, and etched his name into VCT history.
THE CHILD OF GOD FTW #LCQPacific

https://t.co/h4MPtwWN1N pic.twitter.com/2yX7Q0Z8sz

— VCT Pacific @ LCQ (@vctpacific) July 20, 2023
Zeta Division vs. Rex Regum Qeon Match Stats
Game statistics:
| | |
| --- | --- |
| Map | Result |
| Haven | Zeta Division 2:13 Rex Regum Qeon |
| Split | Zeta Division 13:8 Rex Regum Qeon |
| Ascent | Zeta Division 21:19 Rex Regum Qeon |
Top fraggers of the game:
| | | |
| --- | --- | --- |
| Player | ACS | K/D/A |
| RRQ xffero | 275 | 66 / 51 / 27 |
| ZETA Dep | 215 | 66 / 55 / 17 |
| ZETA TENNN | 221 | 62 / 58 / 10 |
| RRQ Lmemore | 250 | 70 / 54 / 12 |
This article contains affiliate links which are marked with [shopping symbol]. These links can provide a small commission for us under certain conditions. This never affects the products price for you.