Sentinels and TenZ have been going through a rough patch lately, and it seems that changes are on the horizon. The big question now is, who will step in to replace TenZ? Let's delve into all the details surrounding this story.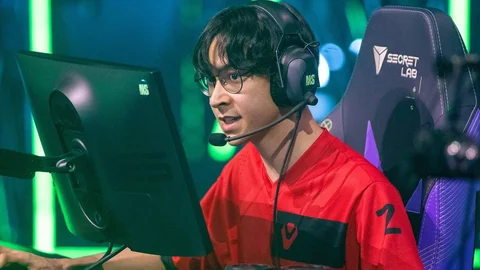 Despite Sentinels not being in their best form, they remain one of the most popular orgs in Valorant. While form may be temporary, class is permanent, but in order to reach their previous heights, changes may be necessary.
Valorant: Are Sentinels Going To Replace Their Goat?
TenZ is undoubtedly the face of Valorant. His renown extends beyond the Valorant community, and his personality and gameplay excite fans. Winning Masters 2021 in Reykjavik made Sentinels a powerhouse in America.
However, a lot has changed since then, and the Sentinels roster in 2023 is different, with the exception of TenZ. Over this period, from Reykjavik to the present, they've undergone roster changes, adding pub stars and streamers like ShahZam, and even the CS:GO legend shroud.
New aspas report thread from Slasher:

- aspas asked LOUD for more money, and new contract, they said no
- Sentinels interested in signing aspas, "90-95%" sure that TenZ isn't on team next year
- NRG are NOT interested in aspas

https://t.co/b2183oOOAP https://t.co/OKNghvI6DA pic.twitter.com/qES62fIjI5

— Valorant News (@ValorINTEL) July 30, 2023
Aspas To Replace TenZ?
Sentinel's current performance issues cannot be attributed to a single player, as anyone who has watched their games can clearly see that it's a team issue rather than an individual one.
TenZ has had phenomenal games like the most recent one against 100 Thieves, but he has also had rather average performances due to agent and role changes. Zekken currently fills the duelist role for Sentinels, which has forced TenZ to practice with heroes outside his comfort zone like KAY/O.
— TenZ (@TenZOfficial) July 31, 2023
On the other side of the globe, there's been drama between Aspas and LOUD, and rumors are spreading that he might be leaving the Champions 2022 winners.
Combined with the rumors about TenZ leaving SEN, there has been speculation about Aspas being the player to replace TenZ in Sentinels.
In a recent interview, "Shasher" claimed that the drama between Aspas and LOUD is about his contract renewal, with Aspas asking for a bigger salary. LOUD reportedly denied this, and that's the main source of the drama between them.
Sentinels' Interest in Aspas
Sentinels have a lot at stake. Having a large fan base and hype surrounding them demands success and celebrations on the stage. Aspas is a superstar in Valorant, and Sentinels probably aren't the only team interested in him.
"I have heard [Sentinels] have potentially offered aspas a major contract going forward, and they are definitely interested in that for next year. The NRG report is not true." - Slasher
Months back, there were rumors about huge interest in Aspas from NRG. In the interview, Slasher denies those claims and says that Sentinels, on the other hand, is the team actively pursuing Aspas with a major contract, potentially a bigger one than LOUD offered.
It do be like that sometimes...

— Kyedae (@kyedae) July 31, 2023
TenZ is still with Sentinels, and no official announcement has been made about his departure. In case the Aspas rumors turn out to be true, and he signs with Sentinels, Slasher believes TenZ will be the one to leave since Aspas and TenZ have similar roles and play styles.
Is Aspas The Right Fit For Sentinels
The fresh rumors surrounding Erick are just speculation, and there might be nothing to them. Sentinels already have a duelist in Zekken, who is a star player for the team, and replacing TenZ with another duelist may not necessarily be an upgrade or a solution to their problems.
"Incredible what people do to create clickbait without knowing anything, we are united and focused 100% for Champions"

LOUD Saadhak responds to Slasher's claims that aspas is leaving LOUD after this season pic.twitter.com/zYX8DntIob

— Valorant News (@ValorINTEL) July 25, 2023
On the other hand, LOUD has qualified for Valorant Champions 2023, and having such rumors spread just a week before the event seems unlikely to be true. Even though they aren't the same team that won last year's Champions, they are still considered among the favorites to win this based on the Bookmaker's Odds.
In the event that the rumors turn out to be true, Sentinels might have a superstar team on paper.

For more content:
This article contains affiliate links which are marked with [shopping symbol]. These links can provide a small commission for us under certain conditions. This never affects the products price for you.