The Americas LCQ has started, and we've just witnessed an exciting match between Sentinels and 100 Thieves.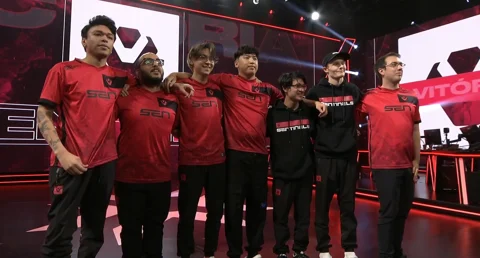 Have Sentinels Finally Regained Their Form?
This is the question that comes to mind every time Sentinels secures a close victory in a major match. Whether they have or haven't, the answer will be revealed soon, as it all depends on their qualification for the Champions event.
Map 1 - Pearl
The title isn't misleading, and it wasn't until Map 3 that TenZ truly made his comeback. 100T witnessed a heroic performance from Cryo, who finished the map with 32 frags. The initial rounds favored SEN, allowing them to end the first half with a 9-3 lead. However, we all know what that scoreline can mean... right? The infamous 9-3 curse haunted Sentinels once again.

A 3K from @Cryocells_ to get a FLAWLESS round putting @100T_Esports one round away from tying up the score! #VALORANTLCQ pic.twitter.com/nuuGtW6lQJ

— VALORANT Esports NA (@valesports_na) July 17, 2023
After a remarkable comeback and an impressive Jett performance by Cryo, 100T managed to equalize the score and force the game into overtime. As Attackers, 100T won the first round, and in the final round, Cryo displayed his skills with the Operator on B Ramp, securing three OP kills right from the start to steal Map 1 for his team.
THE 9-3 CURSE IS REAL

A big round from @Cryocells_ and @100T_Esports steal away Pearl in overtime to go up 1-0 in the series! Split up next. #VALORANTLCQ pic.twitter.com/hnmDAsYDdU

— VALORANT Esports NA (@valesports_na) July 17, 2023
Map 2 - Split
Coming off a mentally draining overtime loss, Map 2 was a crucial moment for Sentinels. The first half was a back-and-forth battle. 100T won the pistol round, but Sentinels bounced back and won the next four rounds. However, 100T managed to halt their momentum and claim the first half with a 7-5 score.
SEN Dhelp

— Sentinels (@Sentinels) July 17, 2023
The second half was a must-win for Sentinels, and they delivered. Despite a lackluster performance earlier, TenZ and Jimzo stepped up their game and ensured that they didn't drop a single round in the second half. After missing several OP shots, TenZ made up for it by showcasing his impeccable aim with knife kills. Sentinels dominated the second half, winning with a score of 13-7.
doing it for his son pujan pic.twitter.com/KTuGjCx9xP

— Sentinels (@Sentinels) July 17, 2023
Decider Map - Bind
Decider maps always bring excitement, and this match in the Americas LCQ was no exception. This particular map alone is worth watching or rewatching the VOD as TenZ unleashed his full potential, igniting chat with claims that he's back.
IT'S YENZ TIME pic.twitter.com/WS5uMJ5rHJ

— Sentinels (@Sentinels) July 17, 2023
And that's not all. Bind treated us to a Yoru mirror match, and everyone was thrilled! Sentinels carried their momentum from Map 2 and left no room for 100T to breathe. The first half ended with Sentinels leading 10-2. The hype surrounded TenZ as he displayed his impeccable fragging abilities throughout the game.
The ace from @Cryocells_ to stop the bleeding! #VALORANTLCQ pic.twitter.com/b5fAthRAWh

— VALORANT Esports NA (@valesports_na) July 17, 2023
At 12-4, Cryo stole the spotlight by acing Sentinels, giving 100T a glimmer of hope. They managed to win the next two rounds, and the crowd eagerly anticipated another overtime. However, their slow push on A resulted in three losses, and the dream of an overtime vanished.
world's best yoru and some guy named peter pic.twitter.com/b0LWQpho9V

— Sentinels (@Sentinels) July 17, 2023
100Thieves Eliminated from VCT Americas LCQ
Single-elimination games are often intense and nerve-wracking, making them incredibly exciting for viewers. This match was no exception, and despite the outcome, it was a well-played game by both sides. Unfortunately, it being a single-elimination match means that 100T's dreams of participating in the Champions event in 2023 have come to an end.
Played our hearts out and gave it everything, thank you all for being apart of this season. pic.twitter.com/Rk3McdL1Yv

— 100 Thieves Esports (@100T_Esports) July 17, 2023
Sentinels vs. 100Thieves Map Results
Here are the final results for each map in this matchup:

| | |
| --- | --- |
| Map | Result |
| Pearl | Sentinels 12-14 100Thieves |
| Split | Sentinels 13-7 100Thieves |
| Bind | Sentinels 13-7 100Thieves |
This article contains affiliate links which are marked with [shopping symbol]. These links can provide a small commission for us under certain conditions. This never affects the products price for you.