The "Player of the Month" series serves to meet and learn more about great Valorant pro players, streamers, etc. Today, we'll take a closer look at Darxcio, who recently climbed up to top 1 in a Radiant rank, and is just 14-years old.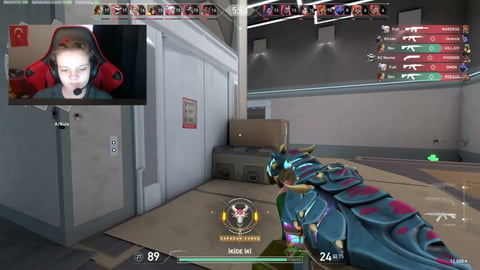 Many of you have already heard of him this month, but also not without good reason. This gentleman is a real phenomenon who has been surprising the Valorant scene for 3 years now, and we will probably see him in the biggest tournaments one day. VCT. But for now, let's talk about who our player of the month is in general.
Darxcio & Valorant
Darxcio started streaming Valorant when he was just 11 years old, and managed to climb to Radiant pretty much right away. 3 years later, he is still streaming Valorant, and is still in the Radiant rank, but higher than he was before... like, much higher, as you will learn later in this article. According to his statements, he would really love to go pro one day, but he knows that he is too young for that as of now. Here you have a link to his Twitch stream:
So yeah, you may be like "that's it? just a young Valorant streamer as your player of the month"? Nope, there is much more to that.
Why is Darxcio our Player of the Month?
So, Darxcio recently reached Top 1 in Radiant globally using mainly Duelist Agents such as Jett, Phoenix, or Raze with a 90% win ratio at one point.
14 YEARS OLD TOP 1 WORLD @PlayVALORANT LET'S GOOO pic.twitter.com/aDkfpyl9RN

— Darxcio (@Darxcioo) January 26, 2023
As you can see, he is already playing with the biggest names from the VCT EMEA scene, such as "cNed" from the current Natus Vincere roster. And yeah, we know that some of you may be like "meh, if he was 10 years older you wouldn't be so hyped about him". Well, we would, and you probably too because we would see this guy in one of the franchised rosters now, that's for sure.
But his age basically gives us even more curiosity about who he will be in Valorant eventually. Because from what it looks, he is constantly developing his gameplay and getting better at Valorant, so if he continues to do so... pro scene might have a problem. Plus, it's just cool that a 14-year-old destroys sweaty 20-year-olds who think they are better because they are older, and here comes Darxcio to show them their place.
Pretty jokes I'm sat there saying this kid is a talent and then I find out its literally @Darxcioo now I feel like a fucking idiot

P.S real talk this kid isn't just mechanically cracked he's actually nice as fuck and has a genuinely good brain for the game.

Nuts pic.twitter.com/hBbO1VTIAx

— LichtCBA (@LichtCBA) January 26, 2023
Normally we would ask you who would your player of the month pick be, but honestly, there is no other choice than Darxcio. We also prepared a short video about his current achievement, where we also briefly mentioned his general background and other achievements, so be sure to check it out: