The Fortnite x Jujutsu Kaisen crossover is here, bringing a bunch of new anime skins as well as an exclusive cup to the game. We've got all the details on cashprize, schedule, and more for you.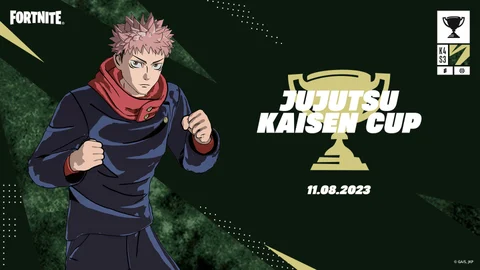 Finally, Jujutsu Kaisen is in Fortnite! And the next big anime crossover has brought us not only absolutely nice skins to the game, but also new abilities and a cup where you can win free Jujutsu Kaisen Cosmetics! We've got everything you need to know about the tournament for you.
Fortnite Jujutsu Kaisen Cup: Schedule & Format
The Fortnite Jujutsu Kaisen Cup will take place in the Europe region on Friday, August 11, 2023 at 7 pm CET.
You can check out the times for the other regions here. This will be a duo tournament played in Fortnite's non-build mode. However, the tournament will also feature the new "Cursed Techniques"! This is because cursed Llamas have appeared with the new patch. When you destroy one, it drops two cursed techniques: the Straw Doll Voodoo and the Hollow Purple technique.
The Straw Doll Voodoo is a fast hammer combo that shoots nails of cursed energy. "Hollow Purple" can obliterate buildings in the way and deal damage to enemies over time. You and your Mate can play up to ten matches within a three-hour window of your region. So grab a mate and get practicing, because it's about to start!
Fortnite Jujutsu Kaisen Cup: Registration
To participate in the Jujutsu Kaisen Cup, you must have reached at least Bronze 1 rank in Ranked Zero Build mode and have 2FA enabled. Then simply select the Cup at the start of the match in the Fortnite competition tab in-game and join the queue with your mate.
Get some of the best gear for gaming right here on Amazon!
Fortnite Jujutsu Kaisen Cup: Scoring System
Two points are awarded for each elimination. Placement points are otherwise as follows:
Victory Royale: 65 points
2nd place: 56 points
3rd place: 52 points
4th place: 48 points
5th place: 44 points
6th place: 40 points
7th place: 38 points
8th place: 36 points
9th place: 34 points
10th place: 32 points
11th place: 30 points
12th place: 28 points
13th place: 26 points
14th place: 24 points
15th place: 22 points
16th place: 20 points
17th place: 18 points
18th place: 16 points
19th place: 14 points
20th place: 12 points
21st place: 10 points
22nd place: 8 points
23rd place: 6 points
24th place: 4 points
25th place: 2 points
24th - 25th place: 1 point
There are also the following match progression goals in the Cup:
Team opens a Vault: 3 points
Team captures the Rift Loot Island POI: 5 points
Fortnite Jujutsu Kaisen Cup: Prizes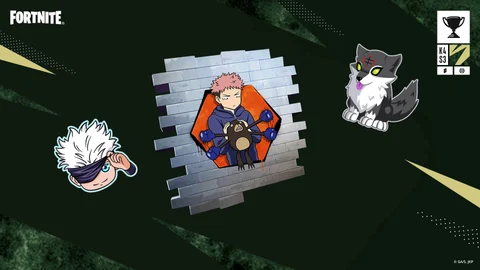 Unfortunately, there is no skin to win this time. But hey, at least it should be easier to earn the prizes. You can find them here at a glance.
Earn 3 eliminations as a team: Emoticon "Gojo's Eye"
8 points received: "Yuji's Training" Spray
Belongs to the top 25% on the leaderboard: Cosmetic emoticon "Good Boy Kon"
For full details and eligibility requirements for the Cup, check out the official rules for the Fortnite Jujutsu Kaisen Cup. We wish you good luck!

This article contains affiliate links which are marked with [shopping symbol]. These links can provide a small commission for us under certain conditions. This never affects the products price for you.