Even though G2 Esports has been kicked off the franchise, no one will prevent them from fighting their way back into the major games. However, this time, the organization will focus on the NA scene.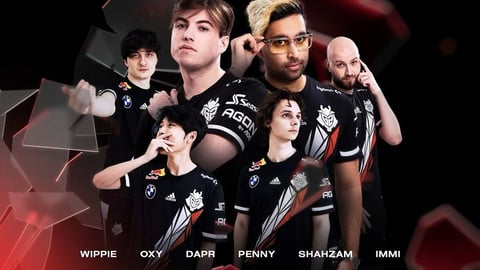 As some of you may have heard, a few months ago, Andrew Tate performed quite a solid PR kick that knocked out G2 Esports from the VCT Franchising program by partying with Carlos "Ocelote" Rodriguez, who is now a former CEO of G2. This was a big blow to the organization, and many people were sure that this was the end of it. Well, there will undoubtedly be a distaste for a long time to come; but still, it looks like G2 Esports will try its hand at the eSports scene regardless, not overlooking Valorant.
G2 Esports New Valorant Roster
This time, G2 Esports has invested in an American roster consisting of former Sentinels and Version1 players, which they have announced today on their Twitter profile with a pretty creative video:
Goodbye G2 Esports pic.twitter.com/hElmPWyXvF

— G2 Esports (@G2esports) December 12, 2022
Good point, ShahZaM; where are the rest of the players? Here's what the Valorant roster of G2 Esports will ultimately look like for 2023:
| | | |
| --- | --- | --- |
| Real Name | Nickname | Previous Team |
| Shahzeb Khan | ShaHzam | Sentinels |
| Michael Gulino | dapr | Sentinels |
| Erik Penny | penny | Version1 |
| Maxim Shepelev | wippie | Version1 |
| Francis Hoang | OXY | Dark Ratio |
This fantastic roster will also be coached by Ian "Immi" Harding who previously worked with Version1.
Now, as G2 Esports is not qualified for the franchising program they will have to compete in VCT NA Challengers League, where they can qualify for VCT Americas League in 2024. Sure, one year is a bit long, but remember that this roster is also about marketing – people want to follow these players, as these names are already creating their brand. Plus, with the recent success of female roster G2 Esports, we're sure the organization feels very confident in Valorant.
What are your thoughts on the new G2 Esports Valorant roster? Will we eventually see in them in the main league? Be sure to share your thoughts on our Discord server and let's have a chat!