We already know the first teams that managed to get into the quarterfinals of the LOCK//IN tournament in the Alpha bracket; these are Karmine Corp (EMEA), Cloud9 (NA), and DRX (APAC).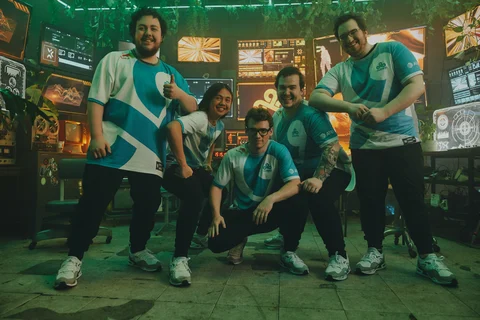 As of now, the LOCK//IN results should not shock anyone — so far, we experience victories for the tournament's favorites all the time. And even though there are no surprises, NA Valorant fans, and especially the fans of the previous OpTic Gaming squad, have reason to rejoice. This time, Jaccob "yay" Whiteaker's new team secured a spot in the quarterfinals by winning their first match, thus eliminating Paper Rex from the tournament.
VCT LOCK//IN Day 2: Cloud9, Karmine Corp & DRX Survive Their First Matches
As a reminder — both Alpha and Omega brackets are held in Single Elimination format, which means that losing a match equals dropping out of the tournament. So yeah, according to these rules, three teams from the eastern side of the world — Paper Rex, BBL Esports, and the new Chinese roster of FunPlus Phoenix – said goodbye to the tournament yesterday. Here are all the results and map scores from the second day of VCT LOCK//IN:
| | | | | |
| --- | --- | --- | --- | --- |
| Team 1 | Team 2 | Map 1 | Map 2 | Map 3 |
| Karmine Corp (EMEA) | FunPlus Phoenix (China) | Lotus (13-6) | Haven (8-13) | Pearl (13-6) |
| DRX (APAC) | BBL Esports (EMEA) | Pearl (13-3) | Ascent (11-13) | Haven (13-7) |
| Cloud9 (NA) | Paper Rex (APAC) | Lotus (13-8) | Pearl (13-5) | |
To be honest, watching Lotus for the first time at a VCT tournament was something fascinating, and we think that releasing this map before the start of the official VCT season was a hit. The amount of tactics and mindgames you can implement on this map is just sick, and we can't wait to see more of it. And as for the results, again, no surprises — so far the kind of teams everyone expected to win are winning.
With these results, we know that Cloud9 and DRX will face each other on February 18, 06:00 PM CET, while Karmine Corp will play with the winner of the LOUD and Gen.G, which will happen on February 17, 09:00 PM CET. However, before these matches, there is the last part of Round of 16 in Bracket Alpha to be played, and this will happen today on the following schedule:
| | |
| --- | --- |
| Match | Date |
| Team Heretics (EMEA) vs Evil Geniuses (NA) | February 15, 06:00 PM CET |
| MIBR (Brazil) vs Talon Esports (APAC) | February 15, 09:00 PM CET |
| Gen.G (APAC) vs LOUD (Brazil) | February 16, 12:00 AM CET |
Who is your favorite in today's matches? Let us know on our Discord! And if you feel lost in what's happening in VCT 2023, be sure to check out our video, where we explain everything in 3 minutes:
More VCT 2023: